I've been thinking a lot lately about what libraries must be going through as they plan to reopen after being closed due to COVID-19. It must be such a mix of emotions for library leaders and employees. Excited to go back to the jobs that they love. Nervous about being exposed to germs. Uncertain about what work will be like with new safety measures in place. Eager to see customers using libraries again.
In addition to the mix of emotions, library employees have all been through different experiences during the closure. Some have been working from home while juggling the needs of their children. Some have been isolated. Some have lost loved ones. Others may have health conditions that made them very, very cautious about going out. All of this goes into the mix as libraries take steps toward reopening.
I'm sure that library leaders are thinking about all of these things as they consider the needs of their employees when reopening. For me, I see them through a marketing and communications lens. How can libraries  bring customers back into their buildings in a way that feels safe and welcoming, ensuring that the customer experience matches what the libraries are communicating? 
As I have spoken to library professionals around the country about these issues, I am learning a lot from their perspectives that I can incorporate into my own experience and professional training. Here are a few suggestions that libraries can use when planning how to communicate and market services when reopening.
1. Communicate early and often, starting with employees. Never announce something to the public that you have not first shared with your employees. Skipping over employees erodes trust in the organization and its leadership. It's better to cascade out your communications, starting with employees, then stakeholders, then broader external audiences.
2. Lead with your values and principles. When crafting messaging about reopening, start by reminding yourself of your library's mission. Then think about the principles that are guiding your decisions.
Here are examples of guiding principles:
Safety of people in the library

.

Concern for the health of employees and customers.

Good stewardship of resources.
Then, when you communicate about the operational decisions you are making, be transparent about your values and principles so that people understand your process. 
3. Try to address fears and concerns without getting negative or defensive. Employees and customers want to be heard. They need to know that your organization's leadership is weighing their concerns. Everyone is nervous.
Create a method that employees and customers can easily use to share their feedback and concerns – whether it is a form on the website or a suggestion box or something else. That creates an easy conduit for concerns and a process that can help de-escalate difficult conversations.
For example, if a customer complains that another customer is not observing social distancing protocols, the employee can say, "I hear your concern and I will share it with management so that we can find a way to address social distancing in the library. Can you fill out this form so we may follow up with you about the steps we take?"
After you begin to receive feedback, create a Frequently Asked Questions document and share it back with your audiences. Show them that you heard them and thought about the issues they raised.
4. Don't let negative signage take over your library. Even under normal circumstances, libraries can sometimes err on the side of too many signs, and some of them can be very negative and scolding in tone. Signs that use ALL CAPS, multiple exclamation points, lots of underline, etc. You know the signs I'm talking about. Here are some examples I found online.

In a situation like this, where there are real health and safety risks, the tendency to address every infraction with signage could be amplified. Resist the impulse to address every issue with a sign. Library customers are already under stress, they don't need to feel like they are being yelled at from every wall of the library.
When creating signs about new protocols such as social distancing, mask wearing, etc. use a positive tone, limit use of all caps, and avoid exclamation points. Maybe start with a "Welcome Back" message. Try to put yourself in your customer's shoes. If possible, use signs produced by the health department or CDC (and in the languages of your customers if possible). Here are some examples of safety-focused but positive signage I found online.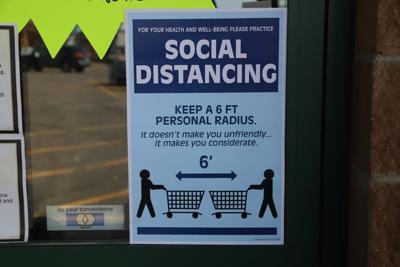 Here is a great guide on COVID-19 communications for libraries created by the  State Library of South Carolina. They have some great signs and templates developed just for libraries.
To end on a positive note, here is a great article from The Atlantic on things libraries are doing while closed, as well as how they are preparing for reopening.
I especially liked this quote: "Anticipating what the public will expect, Marcellus Turner, of the Seattle library, described how his pandemic-era trips to Target and grocery stores have become research trips. He notes the plexiglass, and he observes the processes and standards for health and safety for what that means for the future of the Seattle libraries. What can they model?"
The more you can put yourself in the shoes of your customers and employees, the better prepared you will be to plan for, communicate about, reopening.
I hope all of this is helpful, and above all, I wish library employees and customers everywhere a healthy and safe return, if and when they are ready to reopen.